World Most Diverse University
Students from 161 countries
International VAE Leader
French Registered Private University
Coveted Trademark granted by French Authorities
La plus diverse au monde
Étudiants venants de 161 pays
Leader mondial de la VAE
Etablissement Français d'enseignement supérieur privé
Prestigieuse marque Sorbon® accordée par les Autorités Françaises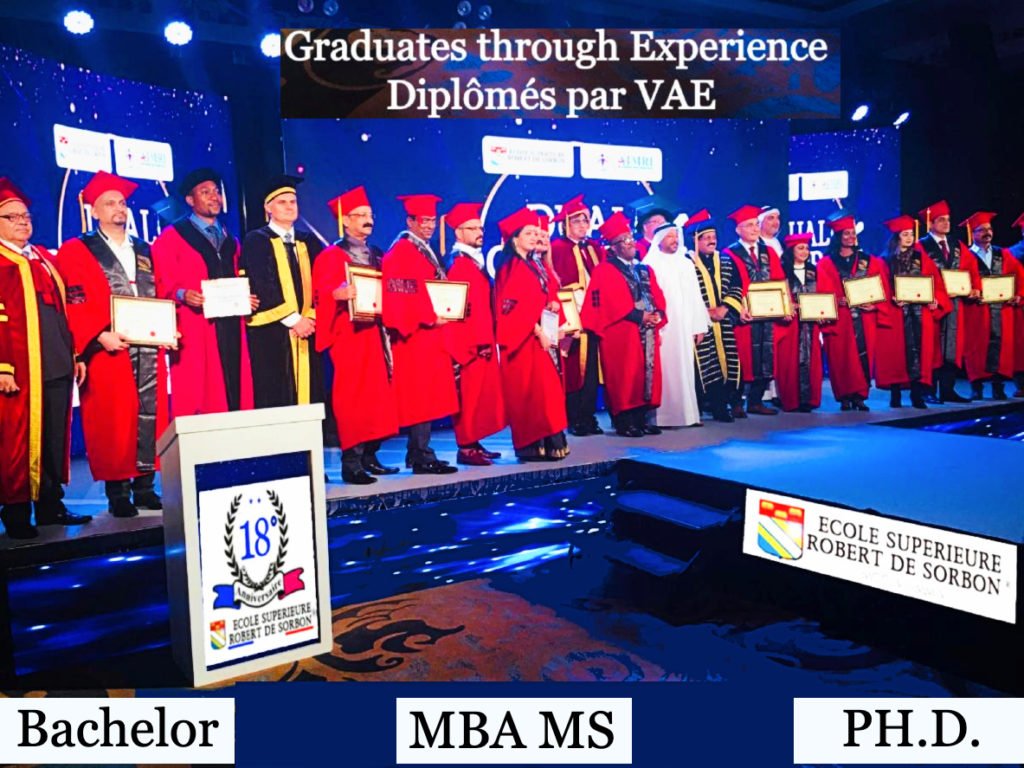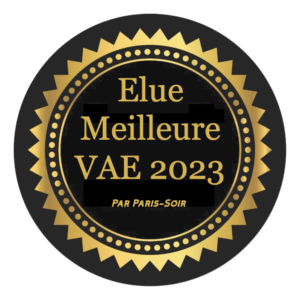 Diplôme par VAE
Depuis 2002, la Validation des Acquis de l'Expérience (VAE) est légale et organisée par les Articles L 613-3 et suivants du Code de l'éducation de la République Française.
Elle permet d'obtenir par l'expérience les diplômes suivants:
BACHELOR (Bac+3) UNESCO CITE 6 180 crédits ECTS
MBA, MS, MA, LL.M UNESCO CITE 7 120 crédits ECTS. (M = Magister)
PH.D. Philosophiæ Doctor UNESCO CITE 8
POST DOCTORAL
En Sciences, Arts, Business, Education, Droit, Santé, Sports et Religion

Degree through Experience
Since 2002, the French VAE process is legal and organized by Articles L 613-3 and following of the French Code of Education.

Our VAE process allows to obtain, through experience, the following degrees:
BACHELOR UNESCO ISCED 6 180 ECTS Credits
MBA, MS, MA, LL.M UNESCO ISCED7 120 ECTS Credits
PH.D. DOCTORATE UNESCO ISCED 8
POST DOCTORAL
In Science, Arts, Business, Education, Law, Health, Sports & Religion
Ecole Supérieure Robert de Sorbon®
Etablissement d'enseignement supérieur privé avec publication au Journal Officiel et octroi exclusif de la marque ®
Institution la plus diverse au monde , étudiants en ligne venant de 161 pays & territoires
Choisie par le gouvernement Indien pour son grand programme CSC
Votée meilleure VAE de 2018 à 2023 (Paris-Soir)
Cérémonies formelles de Diplômes sur les 5 continents dont Chambres des Lords-Westminster Londres.
French registered private University, heir of the "Collège de Sorbon" founded in 1257. French authorities granted exclusively the trademark ®.
World most diverse University : online students coming from 161 countries
Selected by the Indian government to run its very large CSC program
Voted Best VAE from 2018 to 2023 by Paris-Soir
Organizing formal Graduation ceremonies all over the world. Including House of Lords.